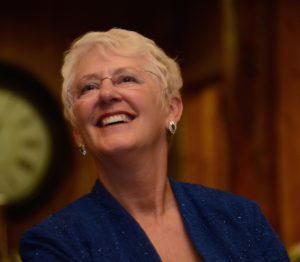 Susan Stockmyer had a 22-year career as an art teacher with Douglas County Schools. It was a fun-filled job, helping students create with a large variety of media, including pottery, weaving, painting, and collage.
Once retired from teaching, she returned to oil painting, primarily painting the figure in a land or cityscape. Her art reflects scenes of everyday life, at home and around the world. She and her husband, Milton, have traveled to South Africa, Zimbabwe, the Caribbean, Italy, France, Spain, Israel, Argentina, Mexico, Israel, England, Wales, and Ireland. Along with keeping a journal, her memories are reinforced through the process of painting.
"I found I could say things with color and shapes that I couldn't say any
other way – things I had no words for" – Georgia O'Keeffe
"It is important to express oneself…provided the feelings are real and are
taken from your own experience." – Berthe Morisot
"Color is my daylong obsession, joy, and torment." – Claude Monet
Education
Stockmyer studied art at Albion College and Metro State University. Over the years she has enjoyed studio classes with Kim English, Ken Velastro, and Mitch Castor at the Art Students League of Denver. She enjoyed 4 years of weekly studio classes with Mary Ann Miro (OPA) and 2 years of weekly classes with Doug Dawson at the Art Students League.
After moving to Santa Fe, NM, in 2017, Susan has painted weekly at the home of local artist, Elizabeth Porter.